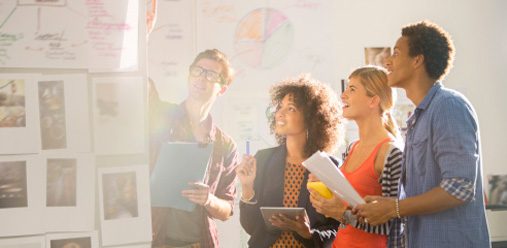 Raventa provides a unique opportunity for candidates. As an entrepreneurial-focused and growing firm, our team consists of exceptionally talented and experienced professionals with strong track records.
We look for individuals with superior academic performance, analytical expertise, interpersonal skills, and a strong work ethic backed by relevant experience.
Raventa is is proud to be an equal opportunity workplace, and in having a working environment that properly showcases individual talent and rewards personal contribution.
Current Vacancies:
Design Co-Ordinator
Our Client
Our client is a leading printing manufacturer of a wide range of bespoke reliable, high quality identification products, including labels, decals, name plate and data plates, panel fronts & overlays, membrane switches and touch screens. We have comprehensive manufacturing capabilities covering many processes and techniques.

The Design Department
The principle function of the Design Department is to act as a bridge between Sales, Marketing and Production producing designs from scratch based on a customer idea. Typically, this will involve interpreting information provided by the Sales & Marketing Team for the Art Studio to produce a design using drawings, image files and templates to match specific customer requirements.
The Role
You should be a highly organised individual able to demonstrate your skills in the use of Adobe Illustrator, Microsoft outlook, word and excel.
This is a fast-paced role which would involve integrating the use of several internal systems to produce high quality technical drawings, artwork and various conversion files for wide format and UV digital printers to tight deadlines.
As Design Co-Ordinator ("DCO") you will be required to communicate effectively between our Commercial and Production Departments together with dealing with customers both over the telephone and e mail. You should have excellent time management skills and be able to work as a team and have a flexible approach to working hours to meet the needs of the business.
The role is primarily office based but there may be times when you will be required to travel. Ideally you should have experience in the print industry or have worked in a manufacturing environment before, but we will consider all applicants based on their experience and skills.
Read moreDesign Co-Ordinator Jan 19 v4
German Customer Service & Social Media / Marketing Co-Ordinator
ROLE OVERVIEW
This is a bilingual Fluent English & German Customer Service & Social Media / Marketing Co-Ordinator role for an on-line, e-commerce B2C business. The CSSMC serves as the professional representative of the company therefore the consistent provision of an exceptional service and approach is crucial. The role is responsible for delivering an excellent service to all customers primarily via the company's e-commerce website but also by answering telephone calls, providing customer information, handling transactions, and managing customer orders by interacting with the rest of the organisation.  The CSSMC
will get involved from the point of order entry to the point of dispatch and final delivery and invoice to the customer. In addition, the CSSMC will manage some e-commerce areas such as social medial, web site content management, German store content management and basic digital marketing analysis through Google Analytics among others.
Read more German Customer Service Social Media Marketing Co-Ordinator Jan 19.
German SEO Executive & Customer Services
ROLE OVERVIEW
This is a bilingual Fluent English & German digital marketing SEO and customer service role for an on-line, e-commerce B2C business. An exciting opportunity to join a great team where you will be responsible for researching, creating and implementing new and innovative Search Engine Optimisation campaigns as well as providing customer service to
our German customer base. You will need to be a strong team player, very analytical and someone who is able to take initiative and come up with great ideas to engage people throughout the business to ensure we optimise our SEO potential .

Read more SEOCS Role Jan 19.